Print Guide

Srahnalong River
| | | | | | | |
| --- | --- | --- | --- | --- | --- | --- |
| | | | | | | |
| | Grade: | | 3 to 5 | | Rating: | |
| | County: | | Mayo | | Date updated: | 18/09/2021 |
| | Section Length: | | ~1.2km | | Version: | 9 (History) |
| | | | | | | |
Brief River Description
A low volume, high adrenaline creeking run. Lots drops, long rapids, tiny eddy's.Sure to push even the best kayakers.
Directions to the Put-in
1 km south-east of Maumtrasna summit. Access is gained by a tarmac'd boreen, marked on the map blelow, which heads north-west.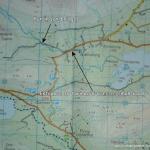 Map showing the turn off to the Srahnalong
Directions to the Take-out
Take out at the bridge where the cars are parked.
Alternatively keep paddling down the river. There are a couple of nice rapids still to come, but make sure to scout them.
Get out at main road bridge or keep going until you pass a yellow house with a red barn. Get out river left (you should see a bunch of old cars keeping the bank together - worth it for this alone!) and walk out, discreetly, through the field system and once reaching the road turn left and walk back up to cars.
River Description
You park at the bridge, check the level before you put your gear on. Mark it with a rock or a stick. Then check it again after you have put your gear on, this will give you an indication of whether the river is going up or down. I'm not joking, this river can change its level over a matter of minutes.
The bridge is the get out. So Next is the hike to the put in, on river right on the opposite side of the bridge there is a rocky path . Don't waste your time scouting, it will all have changed by the time you come back down. You can hike as much as you like but we usually limit to about 30minutes as it takes much longer to paddle back down.
From when you put on down is a seres of drops, fall, rapids, holes etc. Its up to condition on the day and personal judgment what you run on the day. Bank safety setup is a must on some rapids, as swimming is very difficult and because of the rocky nature of Srahnalong and the tiny size of the eddys.
Local issues
There are significant local issues here at the moment. Please avoid paddling this river for the benefit of all for now. Please do not paddle this river as it will endanger current negotiations with the landowners.
River level gauge
If its raining in the area, the river is sure to be up. If any small mountain streams are running then it is most likely at a good level. As you approach the river there are three streams/re-entrants just to the east clearly visible from the road. If two of these are up then it is paddleable, usually. If all three are up it'll be lots of fun..
There is a gauge (metre stick) downstream of the main road bridge on river left. Easily viewed from river right. If it reads .5 or so then level is good.
The river Flows from a small but very steep valley. When it rains the river can rise with in seconds. The level is always changing.
"John Pierce (JP) has graciously allowed me to stick up his number. He lives 20 minutes from the run and between himself and Brain Ward would be the local experts having run it at every conceivable level.Give JP a shout if your looking to find out what the levels are doing. JP - 086.3085654"- Graham Clarke
River Hazards
This is a serious river, proper safety and scouting are required.
Author(s)
Original Author: Sean Bynre
Latest Author: Brian Ward
(
Full History
)
---
Please use the forum for banter or questions.
Please add river details by adding to/editing the guide.